Transportation
Every year, there are about twenty million radioactive shipments by road, train, or ship, around the world. Most of them have nothing to do with the nuclear power industry. They are for materials used in medicine, agriculture, or chemistry. There are about 500 shipments of high-level radiation waste or spent fuel, annually.
Transportation — What and Where
Regarding the nuclear power industry, spent fuel must be transported to the interim storage facilities (if they are not located within the power plant complex), from the interim storage to reprocessing facilities, and from the reprocessing facilities back to interim storage or onwards to a final repository.
In the nuclear power industry, other materials must also be transported such as fresh nuclear fuel which exhibits very little radioactivity and thus there is no need to isolate it from the environment for example yellowcake which is transported in 200-liter barrels and uranium hexafluoride which has only a low level of radioactivity but is toxic and so is transported in special flasks.
Flasks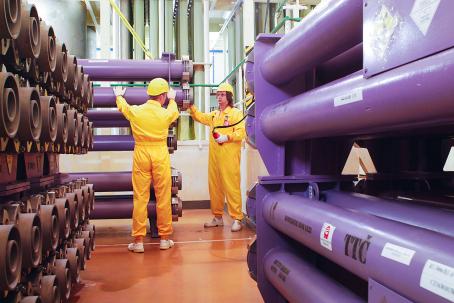 The transportation packaging for fresh nuclear fuel is a set of simple four-hole tube structures. In a nuclear power plant, fresh fuel is stored at the fresh fuel hub.
Prior to its transport, spent nuclear fuel is placed into flasks that are constructed to protect the environment against radiation and that must be at the same time, sufficiently resistant. The flask has several layers, is sealed hermetically, and has fins on its surface to facilitate heat removal. It is made of carbon steel or stainless steel, copper, or an alloy of steel and copper. It weighs 80—120 tons and can hold about 6 tons of cargo. A large flask costs up to 1.6 million USD.
The flask must, under all possible conditions, always remain tight and fulfill its isolation function. It must resist impacts, pressure, fire, and frost. Flasks must comply with strict requirements and withstand the following:

Fall from a 1 m height onto a steel pin.

Free fall from a 10 m height onto a concrete pavement.

Temperature of 800 °C for 30 minutes.

Submersion to a depth
of 15 m for 8 hours.
A flask has been successfully tested during the following events: collision with a train traveling 160 km/hour, impact onto a concrete wall at a speed of 130 km/hour, a fall from a height of 800 m, and a simulated airplane impact.
Transport Vehicles
Flaks containing highly radioactive cargo are usually transported by regular trucks, trains, or ships. However, special transport vehicles built specifically for the transport of radioactive material are frequently used. Large consignments are not shipped by air. However, small ones may be shipped by air in boxes that provide even more safety than the large flasks.
Since 1971, about 20,000 highly radioactive waste consignments have been transported without a single accident. This involved 50,000 tons of material traveling a total of 30 million kilometers.