Timeline
1985
The idea of an international collaboration is proposed at the Geneva Superpower Summit by General Secretary Gorbachev of the former Soviet Union to US President Ronald Reagan.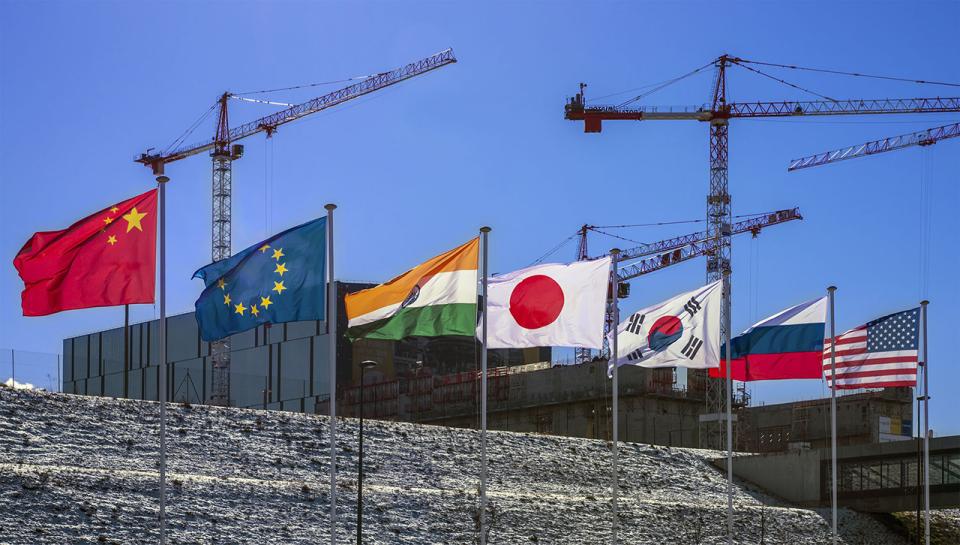 The flags of the seven ITER Members — China, the European Union, India, Japan, Korea, Russia, and the United States — fly over the worksite.
1988
Work on the ITER design started.
1992
Conceptual Design Activities on ITER are finished and three possible locations are suggested: San Diego (USA), Garching, Germany (Euratom), and Naka (Japan).
1998
Final design of the ITER is approved.
2003
The choice for the location of the ITER Project narrowed to Cadarache, France, and Rokkasho-Mura, Japan.
2005
After a period of high-level political negotiations, the decision to locate the ITER in Cadarache, France, is reached.
2006
Signature of the ITER Agreement. ITER members are China, the European Union, India, Japan, Korea, Russia and the United States.
2007
Formal creation of the ITER Organization.
2007—2009
Work begin at the ITER site. Land clearing and levelling progresses. In 2009 the platform is ready for the scientific buildings and facilities of the ITER Project.
2008
Work begins on the ITER Itinerary: a 104-kilometre-long specially modified route from the port of Berre l'Etang to Cadarche for convoys with exceptionally heavy, large components for the ITER machine.
2008—2021
Manufacturing of principal First Plasma components.
2010—2014
Ground support structure and seismic foundations for the
Tokamak
built.
2010—2021
Construction of the ITER plant and auxiliary buildings for First Plasma.
2012
Nuclear licensing milestone: the ITER becomes a Basic Nuclear Installation under French law.
2012
Poloidal Field Coils Winding Facility finished. In this 257-metre-long facility, the winding and assembly operations for five of the ITER's giant
poloidal field coils
will take place at the beginning of 2013.
2014—2021
Construction of the Tokamak Building. From 2017, the Assembly Hall is accessible for installation activities; in 2018 access to Tokamak Pit is open.
2015—2023
Largest components are transported along the ITER Itinerary.
2020—2025
Main assembly phase I.
2021
First magnet, poloidal field coil #6, installed.
2026
First plasma is expected.
2025—2035
Progressive ramping-up of the machine.
2050
Probable beginning of the ITER decommissioning.