Dams and Reservoirs
Dams and Reservoirs
A characteristic feature of hydroelectric power plants is the dam wall, which forms a kind of plug in the lowest part of the basin, retaining the water. The most popular material for building dams is concrete since it allows for dams to be as high as several hundred meters. Older and smaller dams can be earth-filled, masonry, steel or wooden. The dam structure must be frequently checked for wear and damage. It is very important that a watertight connection between the dam and the bedrock and the sloped banks is maintained. Every dam should be fitted with safety gates at the bottom and spillways at the top which allow for regulating the water level and protecting the dam from overflow in the case of flooding. The biggest dams, holding the most water, are built for accumulation hydroelectric power plants.
Aside from drawing energy from watercourses dammed reservoirs can also serve as sources of drinking and irrigation water. Dams protect from floods and make water transport possible.
Dam Types
Dams can be categorized as gravitational if the water is retained by the sheer weight of the dam. Other types are the concrete arch dams or pillar supported dams.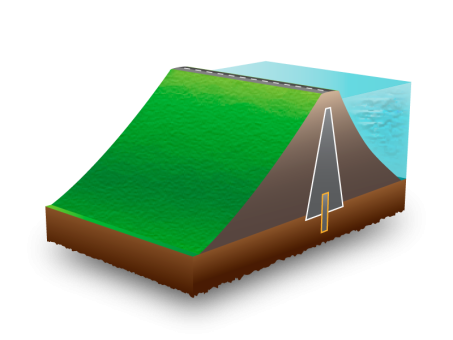 Earth-filled gravity dams
Earth-filled dams oppose the water pressure by their weight. The dam can be filled with earth or stones. The water side of a stone-filled gravity dam is usually protected by a watertight layer made of concrete, stone or steel plates or other waterproof materials. The core of an earth-filled dam consists of clay that will not let any water seep through. The water side of the dam is built from solid materials in order to prevent an erosion of the core. Earth-fill dams require special spillways that can withstand erosive water currents.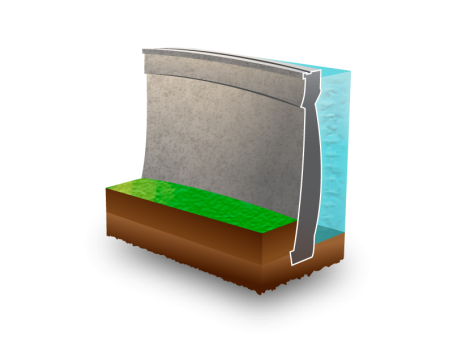 Concrete arch dams
Concrete arch-shaped dams are thin shells firmly anchored in the steep slopes of surrounding deep canyons. The concave shape of that shell allows for the immense water pressure to be directed to the stone walls of the canyon.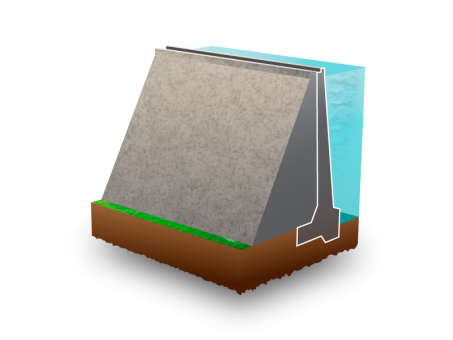 Concrete gravity dams
Gravity dams are usually built from heavy mixtures of concrete and rock and they retain water only by their weight. Their cross section is of a triangular shape, with the base wide and the upper rim narrow. The water sides of these dams are perpendicular to the water surface.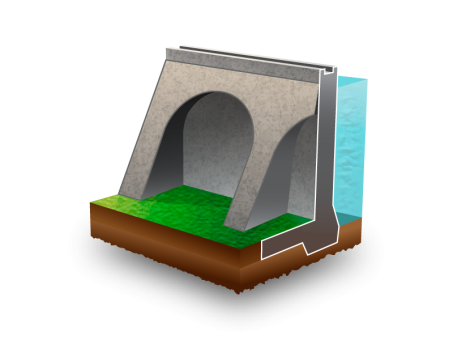 Buttress dams
Made of reinforced concrete, these dams are supported by several pillars on the air side. Depending on the size and technology, the pillars are 5 to 30 meters apart. Thus less building material is needed on the wall of the dam.