Material for magnetic coils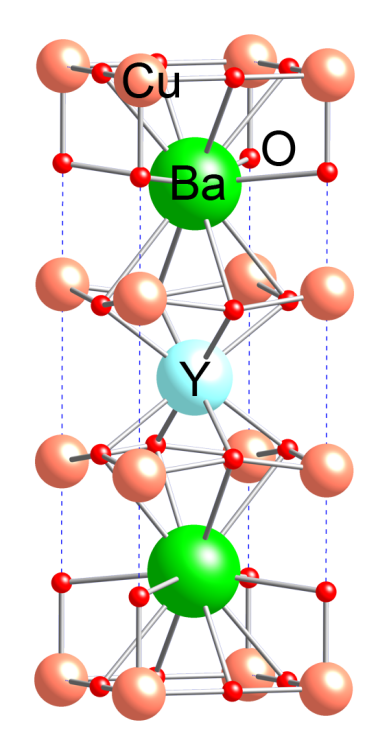 Ball-and-stick model of the unit cell of the high-temperature superconductor yttrium barium copper oxide.
Copper
The typical material for coil winding is copper, but it can overheat easily when a long-lasting and strong magnetic field is required.
Superconductors
For this reason, superconducting coils have started to be used since the 80s. The quantum effect of superconductivity causes electrical resistance to vanish and magnetic flux fields are expelled from the material. Therefore, superconductive magnets carry higher current and produce stronger magnetic fields, consume less power, and therefore are cheaper to operate than their conventional counterparts. To achieve superconductivity, the material has to be cooled below a critical temperature of around 4 Kelvin (−269 °C).
Niobium-Titanium
Niobium-titanium (NbTi) is a superconductor that is easy to work with but loses its superconductivity in magnetic fields exceeding 10 Tesla.
Niobium-Tin
For higher magnetic fields, niobium-tin (Nb3Sn) is more suitable as it keeps superconductivity up to 30 Tesla, but it is a very brittle material. The coil has to be made from separate tin and niobium wires. The heat is then applied to cause the tin to diffuse into the niobium.
ReBCO
Another possibility is high temperature superconductors called ReBCO (Rare-earth Barium Copper Oxide) that can maintain superconductivity in high magnetic fields and at temperatures of about 77 Kelvin. Since 2010, it has been possible to manufacture ReBCO superconductors in bendable tapes. This material was tested for poloidal coils of the "school" tokamak Golem and then used for both toroidal and poloidal winding of the small spherical tokamak ST25.